PUPPY/MATURE DOG LISTINGS
Puppies/Older dogs for Sale from members of the Miniature Pinscher Club of Victoria Inc.
In Australia you should expect to pay in the region of $2,500 to $4,000 for a quality puppy who will bring you 13 to 16 years of fun, love and devotion (Feb 2022)
Please read the following before enquiring with a breeder.
**************************************************************************
************************************************************************************
Guidelines for purchasing your Min Pin Puppy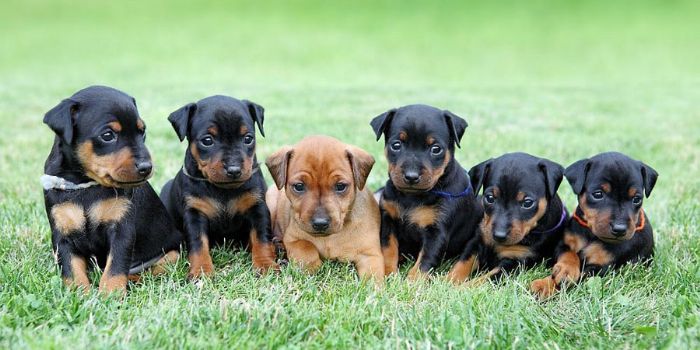 When looking for a Miniature Pinscher puppy there are a few general guidelines you should keep in mind.
Talk to the breeder, letting them ask you questions and telling them where, why and how, about your desire to own one of the most wonderful breeds in the world.
When you go to see the puppies make sure they are happy, healthy, shiny, little bundles of love and mischief, who are kept in clean conditions with lots of toys, ask to meet the mother and if possible the father (sometimes this is not possible because the breeder may have used an outside stud dog, then ask to at least see photos of him)
Sit down and watch the babies running around, making sure they are playing with each other and interacting with people, they can be a little hesitant at first with people they don't know but should come around after a little while, also ask to meet the breeders other dogs, making sure they are healthy, happy dogs – they may take a little longer to warm up to strangers in their domain but they should eventually come over to greet and sniff you.
If the breeder is a Dogs Victoria member the mother of the puppies MUST be 18 months of age or older.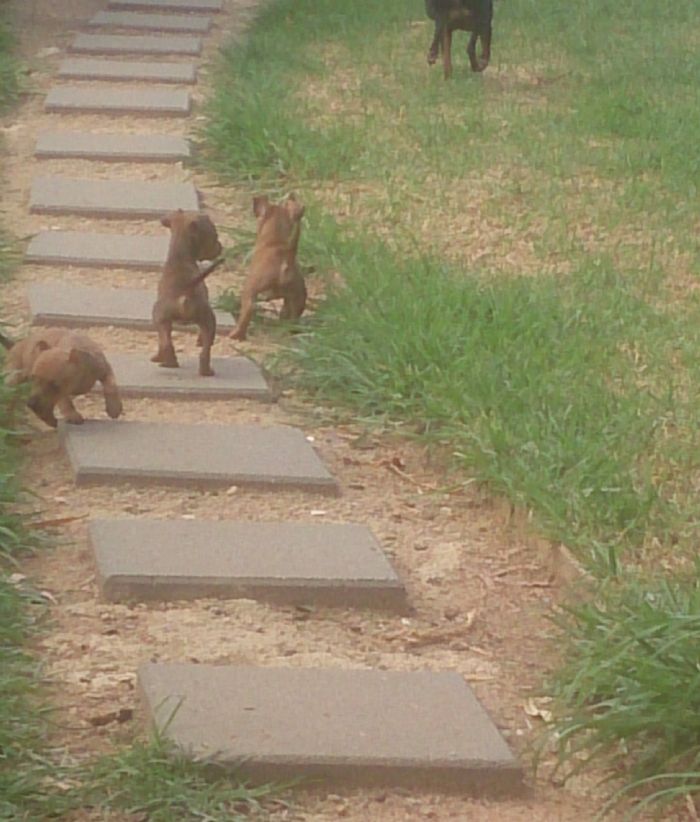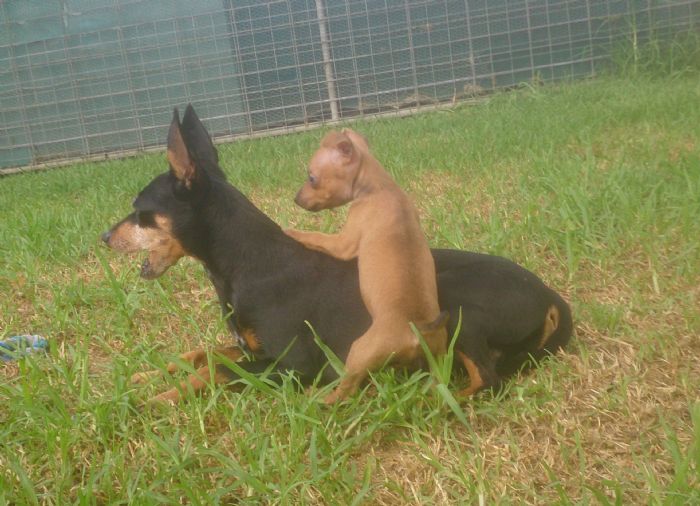 Miniature Pinschers come in 4 different colours that are recognized by the Australian National Kennel Council (ANKC) breed standard – Red of various shades (with a black nose), Black & Tan, Chocolate & Tan and Blue & Tan - Red and Black & Tan are more common than Chocolate & Tan or Blue & Tan. There are other colours (fawn, isabella, merles) that are not recognized but they are not "RARE", they are not accepted for breeding or showing by the breed standard due to the fact that these colours are linked to some health issues, so therefore they MUST be registered on limit register with the ANKC, these colours cannot be registered on mains register according to ANKC rules, these puppies are acceptable as a pets but may come with color related issues therefore they should not command a higher price. Only the 4 colours listed in the standard - ie: red, black & tan, chocolate & tan, blue & tan, are eligible for main registration and for our breeding programs.
The colour of the puppy should not dictate the price – "LOVE DOES NOT COME IN COLOURS"
The temperament of male and female Min Pins are very similar, so both make wonderful pets and if desexed by 6 months of age, most boys will not mark their territory nearly as vigorously as they would if entire and the girls will not come into season attracting all the male dogs in the district and maybe ending up having an litter of unwanted cross bred puppies.
The Miniature Pinscher has very few health problems in Australia, occasionally luxating patella's (knee caps) do occur, as with many toy breeds but recently this has become a rarity in the Miniature Pinscher. Reputable breeders will be aware of this and will breed to avoid the problem.
In Australia you should expect to pay in the region of $2,500 to $4,000 for a quality puppy who will bring you 13 to 16 years of love and devotion (Feb 2022) Explore all avenues before deciding on a breeder/puppy who suits your requirements.
Also have a read of the Miniature Pinscher Standard ("Min Pin Standard & breed info" button on this website) to familiarize yourself with some of the finer points of this great little breed, you may not fully understand all of it but it will give you more knowledge on what you are looking for.
No dog is perfect, they all will have some faults but this makes them no less valuable as pets.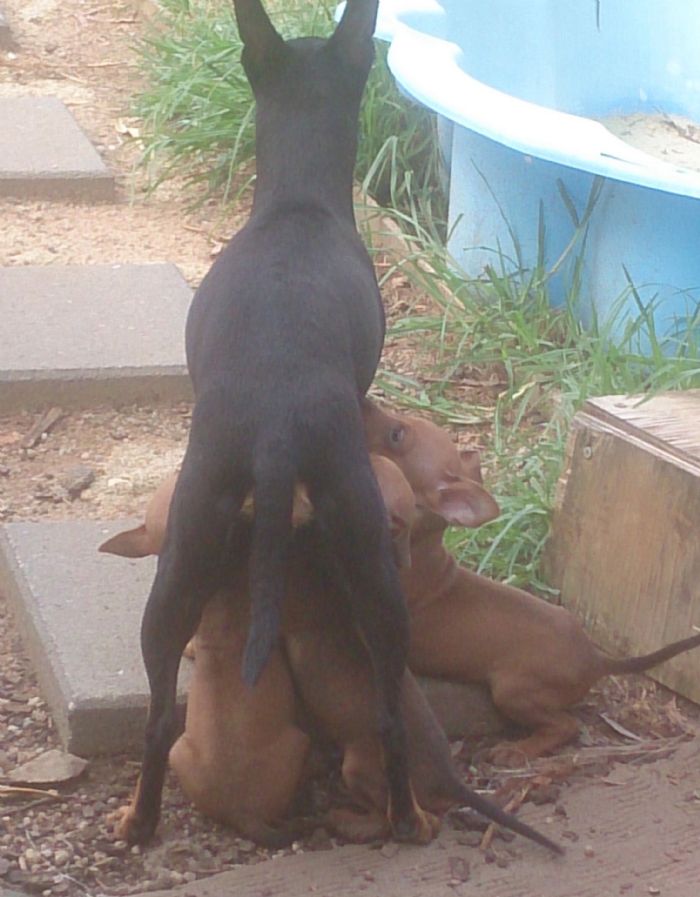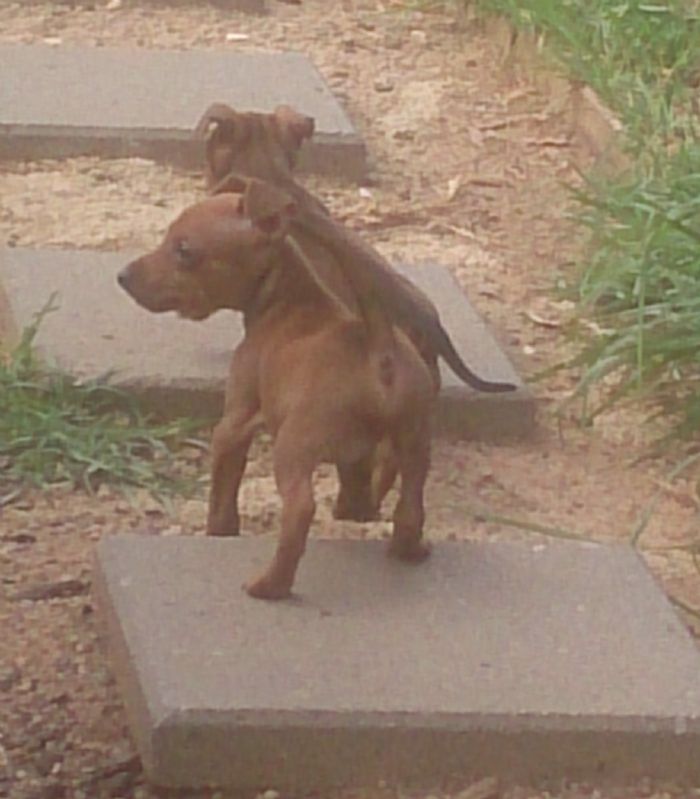 A puppy will not be able to leave for a new home until they are 8 weeks of age or older.

When you have purchased your new baby make sure you receive the following from the breeder, as per Dogs Victoria regulations -
- Certified Pedigree (family tree) & signed transfer form (one item)
- Written information on breed characteristics.
- Vaccination & worming records.
- Vet health check certificate.
- Sales contract.
- Responsible dog ownership information.
- Diet information.
- Receipt.
- Microchip transfer.
Other items which may be supplied includes but is not limited to -
- The Miniature Pinscher breed standard.
- Extended pedigree. (family tree)
- Information on foods to avoid, poisonous plants, training & toilet training tips, how to keep your dog comfortable in hot & cold weather etc.
- Paperwork for joining Dogs Victoria.
- Membership form for the Miniature Pinscher Club of Victoria Inc.
- A sample of the food your puppy is used to eating.
- A blanket and/or toy that will smell like where they have been born, to help them settle in to their new home.
Your puppy's breeder will be there for you when you have any questions about your new baby.
Above all good luck in your search for your new family member.

PUPPY/OLDER DOG ENQUIRIES TO
Mrs Lesley Wilson
0413 805 997
ATTENTION BREEDERS
Please notify Jane if you have any puppies for sale as we regularly get enquiries, don't forget you can also advertise them here on our web site..
There is no charge to Min Pin Club members for
Advertising on the club's web site.
However we do request a fee of $5.00 per puppy
or older dog that is sold through the web site or our Puppy Rep.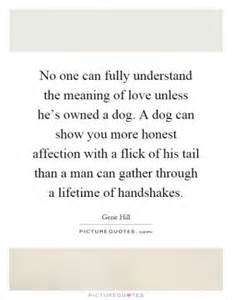 ***************************************************************************************************************************
BABY PICS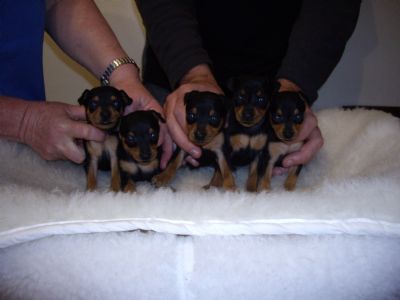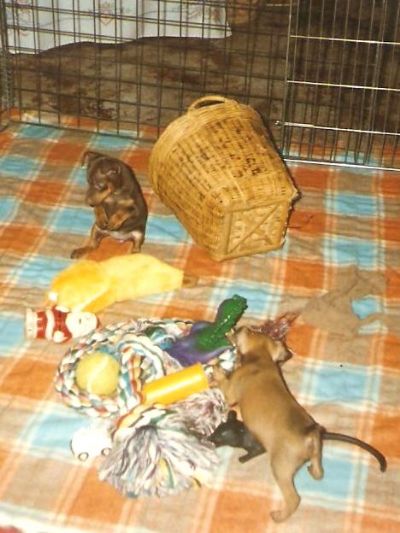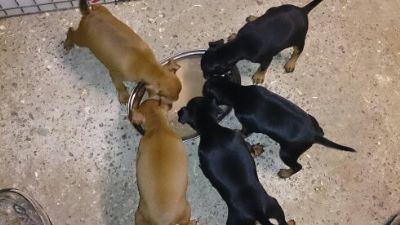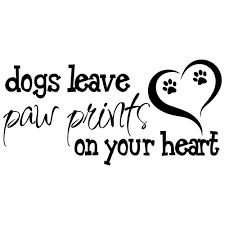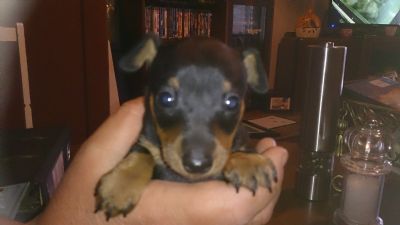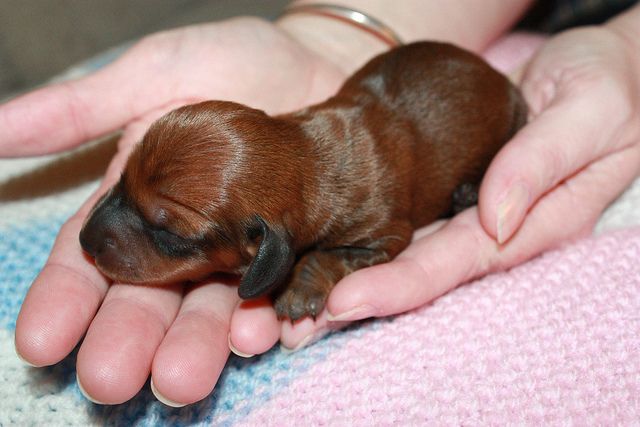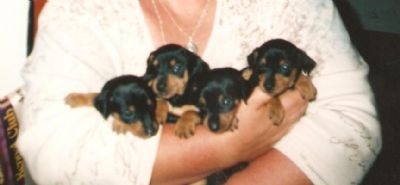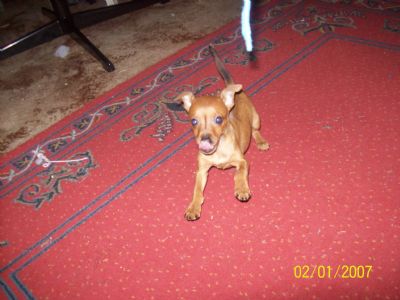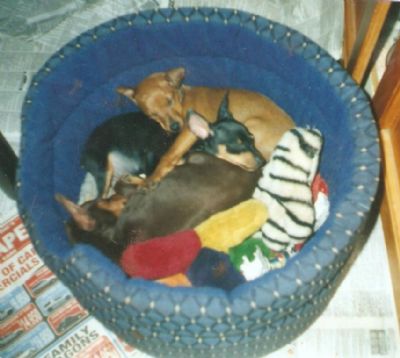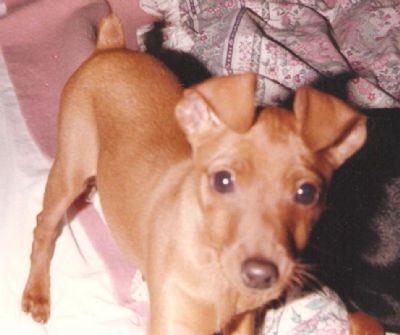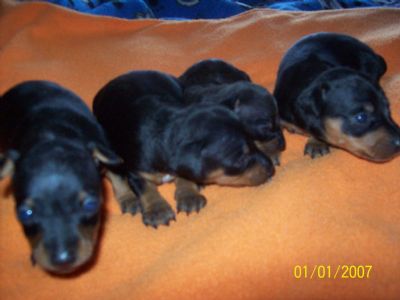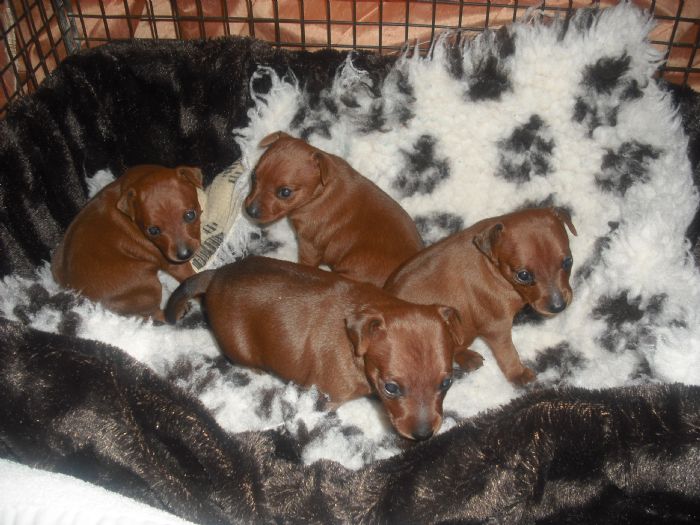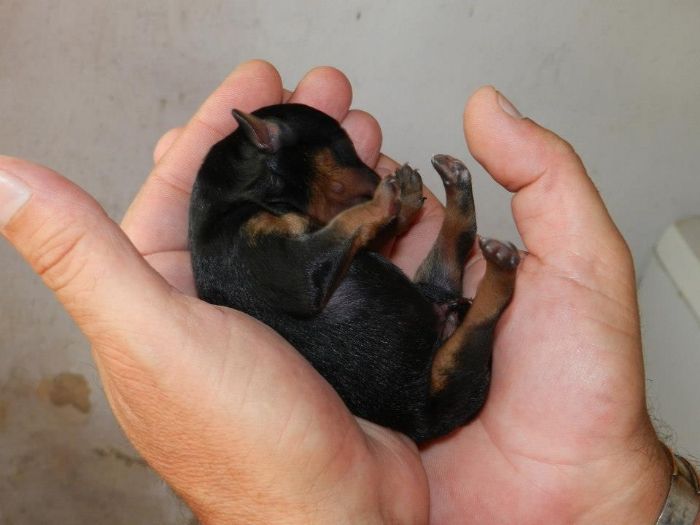 PLEASE LEAVE A COMMENT IN OUR GUEST BOOK BEFORE YOU LEAVE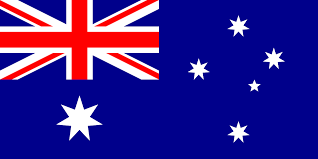 Contact Details
Secretary - Mrs Lisa Prior - [email protected]
Puppy enquiries - Mrs Lesley Wilson - 0413 805 997