History of the Club/Breed in Victoria
HISTORY
Although the Miniature Pinscher may resemble a small Dobermann, it is not - the breed is in fact 150 or more, years older than the Dobermann. Small dogs, very similar to the Miniature Pinscher, have been known in Germany and Scandinavian countries for several centuries. However the breed was not really standardized until 1895, when the Pinscher Klub was formed in Germany and set up stud records and a standard for the breed.
There are 3 breeds of similar apperance in three different sizes -
the Miniature Pinscher - the German Pinscher (oldest of the 3 breeds) - the Dobermann.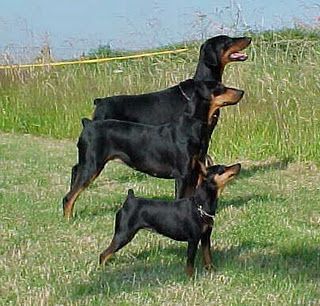 Descended from the Torfspitzgrupe (turf rat terrier group), whose origins have been traced back to the Stone Age. Originally bred in Germany as a ratter for the home and stables, where it was known as the Reh Pinscher, because of its resemblance to the small deer inhabiting the forests. The rest of its ancestry is a bit of a puzzle, it is thought that it may have been bred down from the old original German Pinscher with Italian Greyhound and Dachshund combined, but as there are no written records, this has not been proven.
The Miniature Pinscher was first brought into Australia in the 1950's by George Byron of Sydney, who imported a pair of red dogs from England. These dogs were of American bloodlines, the bitch was imported in whelp, producing 2 bitch puppies, a good start for the breed here. Many other imports followed as the breed became more popular.
The Miniature Pinscher Club of Victoria was founded in 1971 by a small but dedicated group of fanciers and is still being run by a small like minded group today.
THE ARRIVAL OF THE MINIATURE PINSCHER IN VICTORIA
The history of the breed in Victoria starts with the arrival into the state of a very smart little red dog bred by Mr George Byron of Sydney, who was the first to introduce the breed to Australia in 1956. This little red dog was TASSO VON ZBISAL born 23rd Feb 1961. He was purchased by Mr. & Mrs. Chwaliszewski and was shown under difficulties as the breed was unknown to Victoria at that time. However with determination and a love of the breed and also with the help of some 17 different judges, he became Victoria's first Champion Miniature Pinscher. He lived a long and happy life until his death on June 26th 1975.
The first female was also from Sydney, Harry Spira a well known Veterinarian and dog judge bred 'Pindom Lady Davina',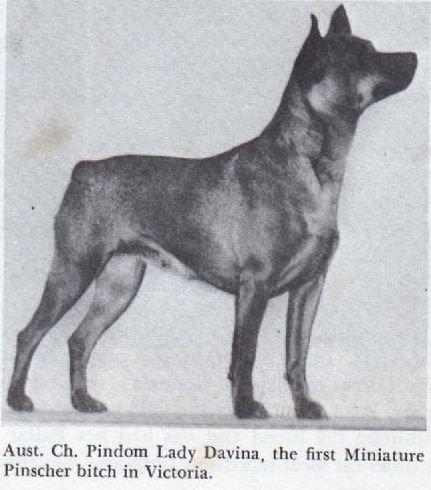 born August 1962, her new owners were Mr. Frank & Mrs. Stella Longmore. Frank Longmore was a well known Judge, both he and his wife were keen supporters of the breed. Mrs. Longmore was to become the future Miniature Pinscher Clubs first Patroness. She was also a foundation member. PINDOM LADY DAVINA was successfully shown by the Longmore's and in November 1964 she gave Victoria its first litter of Miniature Pinschers. 2 Red Dogs & 1 Black & Tan Bitch. The little girl was purchased by Tess Henderson in March 1965 and shown to her Championship title. Tess Henderson was also a foundation member, the clubs first vice President and later became a life member.
THE START OF OUR BREED CLUB
The date was 19th of April 1972 at St Marks Lutheran Church Hall East Melbourne. Joyce Caldwell with the help of her husband John called a meeting of people interested in the breed and in response 15 people arrived. John Caldwell took the chair, the meeting decided to form a social club and apply immediately for affiliation with the Kennel Control Council (KCC).
All those present were foundation members, a caretaker committee was formed consisting of President - Mr. W. F. Lyons, Secretary / Treasurer - Mrs. J. A. Caldwell with a Committee of three - Mr. L. Borrell, Mr. J. C. Caldwell and Mrs. S. Chandler.
Membership subscriptions were fixed at $2.00 per adult with pensioners and juniors 50c.
A further meeting on May 29th held at St Mark's Hall elected the following, as office bearers and committee for the balance of the 1972-73 financial year. Mr. W. F. Lyons confirmed as President, Mrs. J. A. Caldwell as Secretary, Mrs. T. Henderson as Vice President, Mrs. Marion Borrell as Assistant Secretary and Mr. John Caldwell as Treasurer.
The following as Committee Mrs. Marg. Fisher, Barney McCaul, Bill Richardson and Graham Whitebourn. John and Joyce Caldwell, Marg. Fisher and Tess Henderson would become life members. During the year Affiliation was granted by the KCC. Several Social Events were held and late in 1972 the club's first magazine, the Min-Pin Monitor was published. A bank balance of $72.53 and a membership of 42 had made the formation of the club worthwhile. The first annual general meeting was held on April 4th 1973.
The KCC granted an Open Parade which was held on October 21st 1973. Mr. Mick Thomas was the judge and awarded Mr. E. J. Kings bitch, CHINKDALE MIN PIN MINNI 'Best Exhibit' from an entry of 26 dogs and bitches.
At the club's second annual general meeting held on May 5th 1974, The founders of the club John & Joyce Caldwell were granted life membership.
The club's first Championship show was held at the Royal Melbourne Showgrounds, on the 31st of August 1975, the judge, Mr. Laurie Reeves awarded 'Best Exhibit' to Mrs T Henderson's dog, CHINKDALE MR SMALL. 'Best Opposite Sex' in Show was PRINZVONZEIG MELLISA, owned by Mrs. E. T. Mitchell. With 35 dogs and bitches and a total of 69 entries, the show was an outstanding success. Highlight of the day was a parade of past and present champions of the breed. In all 16 dogs and bitches were presented with rosettes including two absent veterans, CH Tasso Von Zbisal, Victoria's first Champion who had passed away two months earlier and CH Pindom Lady Devina who was too old to be present.
Each year the club conducted an Open Parade, a Championship Show and also held dog matches against other breed clubs, Social Events and Members Comp's. Spoons are still presented to owners of new Champions each year.
By 1998 the club had a membership of 53 which included members from Western Australia, South Australia, New South Wales and Queensland.
And so the club went into 1999 looking in great shape and must surely have been the year
of the Miniature Pinscher Club of Victoria.
The club today though having a small membership, is still run by a very dedicated group of Min Pin enthusiasts and the club now holds 3 shows a year, 2 Championship shows and 1 Open show.

I for one would like to see more people become involved with the club and the wonderful breed known as THE MIN-PIN.
FOUNDATION MEMBERS
Mr L Burrell, Mrs M Burrell, Mrs J Caldwell, Mr J Caldwell, Mr L Chandler, Mrs S Chandler, Mrs S Chwaliszewski, Mr Z Chwaliszewski, Mrs M Fisher, Mr J Henderson, Mrs T Henderson, Mrs S Longmore, Mr W F Lyons, Mr B McCaul, Mr W Richardson & Mr G Whitbourn.
LIFE MEMBERS
1974 - Mrs J Calwell, Mr J Caldwell, Mrs S Longmore
1977 - Mrs T Henderson, Mr W F Lyons
1979 - Mrs L O'Reilly
1983 - Mrs M Fisher
1985 - Mrs L Wilson, Mrs C Wookey
2001 - Mrs K McCracken, Mr N McCracken
20?? - Mrs Lisa Prior
HISTORY OF THE MIN PIN CLUB'S MEMORIAL TROPHIES
THE STELLA LONGMORE MEMORIAL TROPHY
This trophy was named after Stella Longmore, the wife of Frank Longmore, Frank was the official photographer for the then Kennel Control Council.
Frank and Stella had become involved in Min Pins when they were given a puppy by Dr. Harry Spira. Sadly Frank passed away but Stella maintained her interest in the breed and was to become the clubs first Patroness.
At about this time the club was considering an annual competition for those exhibiting Min Pins throughout Australia and so a competition under the name 'Miniature Pinscher of Australia' was started.
When Stella passed away, club members at a meeting voted to rename this annual competition, the 'Stella Longmore Memorial trophy'.
The competition would be run on a point score system, points would be taken from a Min Pins ten highest awards at Championship shows in a financial year.
The entry in Group 1 must be more than 50.
Points were allotted as follows,
Class win - 2 points
Challenge - 2 points
In group awards - 4 points
Best exhibit in group - 10 points
Opp. sex in group - 6 points
Best exhibit in show - 20 points
Best opp. sex in show - 15 points
This trophy is now run using the Dogzonline pointscore system, which makes everyone responsible for getting their own results in and the secretary does not have to keep tally.
W. F. LYONS MEMORIAL TROPHY
It soon became obvious tht the Min Pin was still a rare breed in Victoria, with judges nor familiar with the breed and with many new handlers who had never shown a dog before, that there would not be many "In Group" or "In Show" wins in Victoria in those early days.
It was decided to run a new competition in conjunction with the then 'Min Pin of Australia' competition, which would be open only to members of the Min Pin Club of Victoria. It would be the 'Min Pin of Victoria trophy'.
W. F. (Bill) Lyons was amoungst the first to own Min Pins in Victoria, well before the club was formed he bought two from the Cross' Minelphi Min Pins in NSW. When Bill became aware that John Caldwell was organizing social meetings for Min Pin owners and their dogs, he immediately took and active interest in these get togethers. From here the Min Pin Club of Victoria was formed, Bill became the first President and was active for many years. When he passed away it was decided, at a club meeting to rename the 'Min Pin of Victoria trophy' the 'W. F. Lyons Memorial trophy', with the same rules and point system as the 'Stella Longmore Memorial trophy'.
This trophy is also now run using the Dogzonline pointscore system.
21st OCTOBER 1973
MIN PIN CLUB OF VICTORIA'S FIRST OPEN PARADE
JUDGE - MR THOMAS
BEST EXHIBIT IN SHOW - CHINKDALE MINIE PIN MINNI - Mr E J King
BEST OPPOSITE SEX IN SHOW - REECHALAR TORANA - Mrs T Henderson
BEST BABY PUPPY IN SHOW - DAUNTON HONEY LULU - Mr J Caldwell
BEST PUPPY IN SHOW - AGRAVANZO LEIBLING - Agravanzo Kennels
BEST JUNIOR IN SHOW - SUNBUDA BARBARA - Mr J Calwell
BEST INTERMEDIATE IN SHOW -

CHINKDALE MINIE PIN MINI - Mr E J King
OUR FIRST CHAMPIONSHIP SHOW AUGUST 31ST 1975
JUDGE - MR LAURIE REEVES
BEST EXHIBIT IN SHOW - CHINKDALE MR SMALL - Mrs T Henderson
BEST OPPOSITE SEX IN SHOW - PRINZVONZEIG MELLISA - Mrs E Mitchell
BEST BABY PUPPY IN SHOW - MARLAU PEPITA - Mr & Mrs R Keane
BEST PUPPY IN SHOW - BARAMBAH DAWALLA - Mr & Mrs H Visser
BEST JUNIOR IN SHOW - CHINKDALE MR SMALL - Mrs T Henderson
BEST INTERMEDIATE IN SHOW - SUNBUDA CIRULIS - Mr J Caldwell
BEST LIMIT IN SHOW - REECHELAR MIGHTY - Mrs G Trenear
KCC GUINEAS -
1st - CHINKDALE MR SMALL
2nd - BARAMBAH CORY
3rd - BARAMBAH DAWALLA
4th - MARLAU PEPITA
FROM THE 1973 MONITOR
The following letter is from a Mrs Eger, Toronto, Canada, in answer to a letter sent by Joyce Caldwell answering questions that Mrs Eger had asked regarding Min-Pins in Australia.
Dear Mrs Caldwell,
I was very pleased to receive your letter & I thank you kindly for all the information you gave me, it was a great help & very interesting.
It seems to me to be the same situation in Canada as in Australia although at the shows that I have attended there has always been a couple of Min-Pins so maybe they have been in the show ring a bit longer here than at home.
As far as I know there are only five breeders here, 3 in Ontario, 1 in B.C. & 1 in the States.
I seem to find that except for a few most people have not heard of the breed which seems such a shame as they are a lovely dog.
At the moment it looks as though I will be in Canada longer than I expected so I have decided to show my dog here. To do this I had to have his ears cropped, this was two days ago & it doesn't seem to have bothered him at all he is eating well & playing with the cat as usual as though nothing had happened.
When it is properly done it doesn't seem to cause them any pain. You may fine it interesting to know that they are trying to outlaw ear cropping here too but so far they haven't succeeded.
I will be glad when they do I don't like it myself but if I hadn't had Fritz done I couldn't how him so I had no choice.
But I must admit they do look beautiful with their ears done.
I will see if I can send you the monthly paper from the C.K.C. well I think that is about all the news for the moment.
I forgot to tell you the cost of pups here (Min-Pins) a pet costs $125.00
A show dog costs $175.00 ( plus sales tax )
I paid $181.56 for my dog.
The bitches cost the same as a dog here.
A stud service costs $75.
One thing I can tell you here the prices of dogs with papers are a small fortune.
A Poodle costs from $125 up & I mean up to a $1000.
A Great Prynees dog costs $250 for a pet up to $500 for a bitch to breed from.
On the average most breeds start from $125 up with papers.

Well I think that's all for now & I look forward to hearing from you again.
Yours Sincerely
Diane Eger.
PLEASE LEAVE A COMMENT IN OUR GUEST BOOK BEFORE YOU LEAVE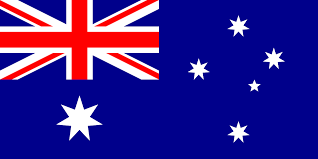 Contact Details
Secretary - Mrs Lisa Prior - [email protected]
Puppy enquiries - Mrs Lesley Wilson - 0413 805 997